MUSIC CONNECTION
ARTIST BIOS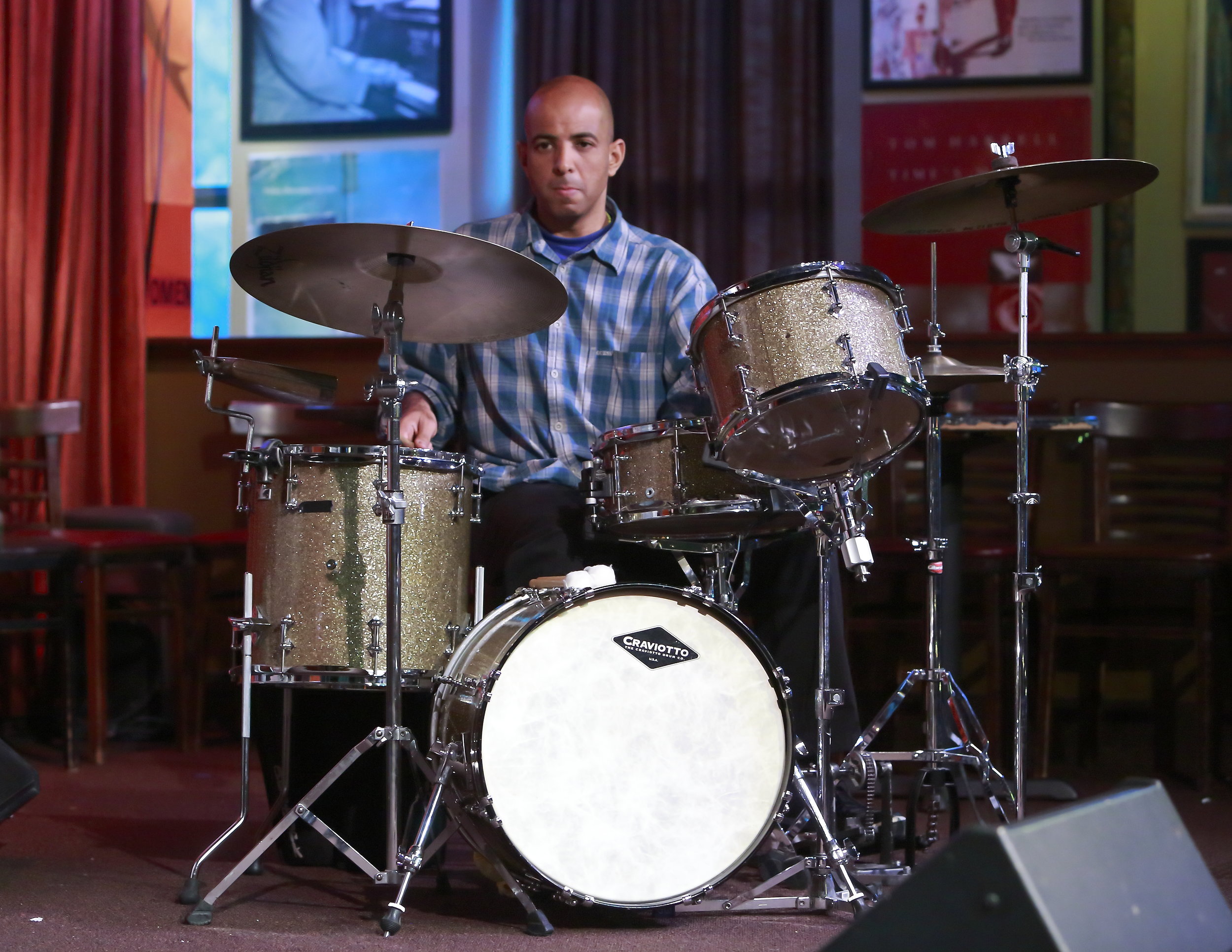 Rafael Monteagudo (drummer/percussionist) arrived in the US in 2000 from Havana, Cuba. His areas of focus include jazz, funk, fusion, Latin jazz, and Afro-Cuban. He grew up in a neighborhood in Havana that has produced some of the most famous Cuban musicians in music history.
Jennifer Vincent, bassist and cellist, has been an active force on the jazz and latin scenes in NYC for the past two decades. She plays, tours, and records (and has played) with the likes of the Duke Ellington Orchestra, Betty Carter, Abbey Lincoln, the Harry Whiteaker Group, drummers Willie Martinez and Roberto Rodriguez (of Miami Sound Machine), Jon Hendricks, Paula West, Carmen Lundy, Son Sublime, and the famed Boy's Choir of Harlem.

She has had the good fortune to study at the New School with jazz and latin jazz legends Ron Carter, Buster Williams, and Andy Gonzales. In 2001 she traveled to Cuba to study with Orlando "Cachaito" Lopez, bassist of the beloved Buena Vista Social Club.

Jennifer can be heard on commercials for Olive Garden, Lipitor, and
Marriott Hotels, among others. Her bass lines are featured on NBC's 75th Anniversary "Cosby Show Retrospective", as well as episodes of Dora the Explorer and Dirty Sexy Money.
She co-leads two groups: The New Jazz Quartet (dedicated exclusively to original material) and CoCoMaMa (an 8-piece all-female salsa band). For the past 7 years she has held the bass chair for the Duke Ellington Orchestra, touring the world over while carrying on the tradition of the longest-running and most legendary band in American history. All About Jazz has this to say about her......."bassist Jennifer Vincent shows that she can stay with anyone when it comes to getting a bass to sing."
"If you are a music lover, I strongly suggest you check out Chiemi Nakai. She is a very special talent and an artist to be reckoned with". - Harvey Averne
By an American record producer, the founder of CoCo Records and 2 time - Grammy Award Winner directed and mixed for the albums of Eddie Palmieri "The Sun Of Latin Music"(1975) & Eddie Palmieri "Unfinished Masterpiece"(1976).

A native of Japan, Chiemi Nakai moved to New York City in 1998 and graduated from the Aaron Copland School of Music at Queens College, Masters of Art in Jazz Performance in 2002.

Her talents were recognized by Jimmy Bosch(tb) y su Salsa Dura, "Omi Odara" and Juan Carlos Formell(vo, gt) project called "The Cuban Mission" and so on. Also in 2006 she performed at Weill Recital Hall in Carnegie Hall with Carlos del Pino(b) Cuban project which collaborates with Cuban contemporary music composer Miss Tania Leon. Since 2002 she has been a band leader of "Chiemi Nakai & the Afro- Cuban Jazz Project" and playing at several clubs in NYC such as Blue Note, Jazz at Kitano, and so on. The first album "bridges" released in March 2008 and was nominated as one of the "Next Generation Artist" CDs in the Latin Jazz Corner Best Latin Jazz of 2008 Award. Herself was nominated as one of the Best Pianists of the year at the same Award. Moreover the CD was selected as one of Top 6 Latin Jazz CDs of Diskunion Japan / Union Award 2008. She released the second CD "Transformation" on January 2014.
Onel Mulet is a multi-instrumentalist (saxophone, flute, percussion) composer and producer whose career spans almost three decades. Onel has performed in some of the most prestigious music festivals and concert venues across Europe, the Middle East and Latin America. He has toured, performed and or recorded with artists including Celia Cruz, Olga Guillot, Graciela Perez-Gutierrez, Malena Burke, The Music Connection, Enyenison Enkama, Candido Camero, Jayne Cortez, Latasha N. Nevada Diggs, Tamar Kali, Francisco Aguabella, Arturo Sandoval, Oriente Lopez, Carlos "Patato" Valdes, Pedro Luis Ferrer, Jose Luis "El Puma" Rodriguez , The Gipsy Kings, David Oquendo, The Fania All Stars, Roman Diaz, Pedro Martinez and Albita Rodriguez, among others. Born in Miami, Fl of Cuban heritage, Onel has been based in New York since 2002.